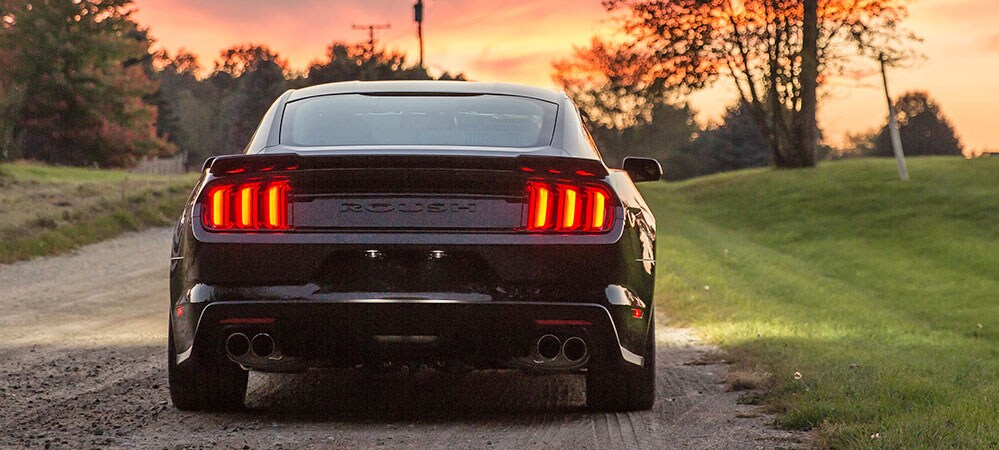 THE 2017 ROUSH STAGE 1 MUSTANG DELIVERS PERFORMANCE IN AN INNOVATIVE PACKAGE

Starting at $6,000 above base price
310 hp 2.3L I4 Engine
Fuel economy of 30 mpg hwy / 21 mpg city

The ROUSH Stage 1 Mustang is built on top of the Mustang EcoBoost platform, which itself represented a brave new direction for the Mustang. The light-weight and efficient engine produces an impressive 310 hp 320 lb-ft out of the box. All this while allowing for an amazingly well balanced weight distribution front-to-rear, which means more nimble handling.

With the core and optional ROUSH body and chassis components, the vehicle is transformed into a true performance vehicle that blends the line between a race car and a road car. The ROUSH body components add true race-inspired styling, while the ROUSH wheels and tires add the grip that will curve corners like never before.
Lower Base Package Price: For the 2017 model year, the base price of the ROUSH Stage 1 Mustang package is $6,000, down from the 2016 base price of $8,000. Also new to this model year, the RS1 can now be built on the 100A package - a savings of nearly $5,000 in the base vehicle cost.

---
ROUSH has gone to great lengths to enhance the appearance and functionality of the ROUSH Stage 1 Mustang to provide true race inspired body, graphics, wheels, and grille work.
ROUSH exterior upgrades are precision engineered with CAD/CAM design and manufactured with the same processes that the big automotive manufacturers use for OE-quality appearance, longevity, and fit.



 
Our Promise
At ROUSH Performance, it's not enough to deliver heart-pounding performance, unparalleled refinement, and race-inspired styling. We take a step further and back-up the 2017 ROUSH Stage 1 Mustang with an industry-leading 3-year, 36,000 mile limited warranty so you know that we're along for the ride.
Our vehicles are rigorously engineered and tested to prevent issues down the road, but should they occur, you can rest assured in knowing that we're here to help. 

---
Core Components
ROUSH Dual Tip Performance Exhaust System
"RS1" Strut Tower Brace
Front Fascia with Aero Pockets
High Flow Upper Grille with "1" Badge
High Flow Lower Opening
Front Chin Splitter
Performance Driving Lamps
Hood Scoop - Body Color
Body Side Scoop - Body color
"ROUSH" Fender Badges
Side Rocker Aero Aids
Rear Blackout Panel with "ROUSH" Badging

Rear Decklid Spoiler

"ROUSH" Front Windshield Banner
Stage 1 Serialized Engine Bay Plaque
"ROUSH" License Plate
ROUSH Interior Medallion on Dash
"ROUSH" Instrument Gauge Cluster
"ROUSH" Embroidered Floor Mats
"ROUSH" Illuminated Door Sill Plates
ROUSH Supplement Owner's Guide

---
Optional Components
Upgrade Exhaust to Quad Tip with Rear Valance
Upgrade Exhaust to Active Quad Tip Featuring ROUSH Technology with Rear Valance
ROUSH RS1 Side Graphic - New for 2017 model year
Hood Graphic

Low Gloss Black Rear Decklid Spoiler - Only available with Matte Black side & hood graphics

Reverse Sensing Custom Fitting to Rear Valance

20-Inch Quicksilver Wheels with Ultra High Performance Cooper RS3 Series Tires

20-Inch Polished Wheels with Ultra High Performance Cooper RS3 Series Tires
Performance 1-way ROUSH Coilover Suspension (Adjustable Height)

ROUSH TrakPak™ 3-way ROUSH Coilover Suspension (Adjustable Height)

Billet Performance Pedals - Available for manual and automatic transmissions

ROUSH Leather Seating

ROUSH Leather RECARO Seating

6-Speed Shifter Ball

Convertible Style Bar

ROUSH Trunk Mounted Tool Kit

Hood Strut Lift Kit

Quarter Window Scoops (Black) - Fastback only

Locking Lug Nuts