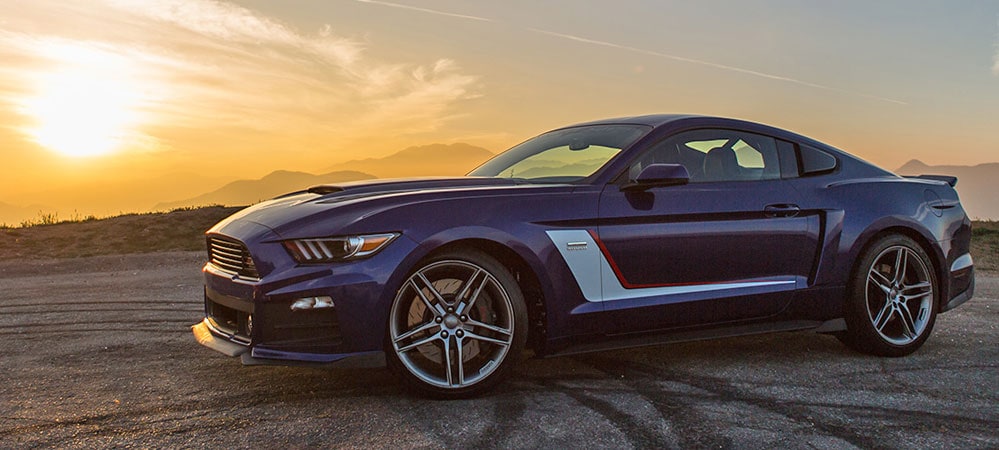 THE 2017 ROUSH STAGE 3 MUSTANG REDEFINES AMERICAN MUSCLE
Starting at $19,500 above base price
670 hp ROUSHcharged 5.0L V8 Engine
The 2017 ROUSH Stage 3 is truly the ultimate in American muscle. Jack Roush's vision shines through this perfect combination of raw power and meticulous handling and braking capabilities, providing the driver access to the robust attitude and performance of a racecar, while maintaining a comfortable and uniquely ROUSH driving experience.
The 2017 ROUSH Stage 3 Mustang follows a long tradition of achieving just this. It's a state-of-the art muscle car that combines world class handling with Detroit-born grunt. Under the hood, the ROUSHcharged 5.0L V8 power plant pumps out 670 horsepower courtesy of ROUSH Performance's R2300 TVS supercharger - more horsepower per liter than any other American OE muscle car on the market. It goes without saying that the RS3 is a force to be reckoned with on and off the track, and a ten-second quarter-mile is a real possibility with a racing tire and an experienced driver behind the wheel.
---
Innovation In Performance

You can hear the Stage 3's power pulsing through an innovative new ROUSH Active Performance exhaust system. This game-changing system gives full control over the volume and tone coming from a quad-tip stainless steel ROUSH exhaust. Select modes ranging from the subtle "Touring" mode, dynamic "Sport" mode, and wide-open "Track" mode. With the "custom" mode you can program your own dynamic profiles with virtually infinite sound possibilities, right from your mobile device.
The 2017 Stage 3 Mustang embodies the legacy of ROUSH Performance's racing heritage. Choose between a single adjustable coil over suspension that comes standard to take full advantage of the Mustang's independent rear suspension. For even more control over your ride, opt for the ROUSH TrakPak™ 3-way adjustable coil over suspension that has been custom-tuned by World Challenge professional driver Jack Roush Jr. to achieve a phenomenal 1.07g skid-pad performance.
ROUSH has gone to great lengths to enhance the appearance and functionality of the ROUSH Stage 3 Mustang to provide true race-inspired body, graphics, wheels, and grille work.
ROUSH exterior upgrades are precision engineered with CAD/CAM design and manufactured with the same processes that the big automotive manufacturers use for OE-quality appearance, longevity, and fit.





Our Promise
At ROUSH Performance, it's not enough to deliver heart-pounding performance, unparalleled refinement, and race-inspired styling. We take a step further and back-up the 2017 ROUSH Stage 3 Mustang with an industry-leading 3-year, 36,000 mile limited warranty so you know that we're along for the ride.
Our vehicles are rigorously engineered and tested to prevent issues down the road, but should they occur, you can rest assured in knowing that we're here to help. 

---
Core Components
5.0L ROUSHcharged 670HP Powertrain Featuring the ROUSH 2.3L TVS Supercharger
Extreme-Duty Half-shafts
Performance 1-Way Coilover Suspension System w/ Adjustable Height
20-Inch Quicksilver Wheels with Ultra High Performance Cooper RS3 Tires
Front Fascia with Aero Pockets
High Flow Upper Grille With "3" Badge
High Flow Lower Opening
Front Chin Splitter
Performance Driving Lamps
ROUSH Fender Badges
Body Color Hood Scoop
ROUSH Stage 3 Graphics Package
Body Color Side Scoop
Side Rocker Winglets
Rear Blackout Panel with "ROUSH" Badging
Rear Decklid Spoiler (Fastback only)
ROUSH Front Windshield Banner
Stage 3 Serialized Engine Bay Plaque
Engine Bay Plaque with Engine Build Signature
"ROUSH" License Plate
ROUSH Interior Medallion on dash
ROUSH Design Instrument Gauge Cluster
ROUSH Embroidered Floor Mats
ROUSH Illuminated Door Sill Plates
ROUSH Supplemental Owner's Guide

---
Optional Components
ROUSH Performance Exhaust System with Quad Tips (prepped for ROUSH Active Performance Exhaust System) and Rear Valance
ROUSH Active Quad Exhaust System and Rear Valance
ROUSH Hood Heat Extractors
Low Gloss Black Rear Decklid Spoiler - Only available with Matte Black Side & Hood graphics
Paint Selection Premium - Applies to Ford Premium paint colors only
Reverse Sensing Custom Fitting to Rear Valance
Upgrade to 20" Polished Wheels with Cooper Ultra High Performance RS3 Tires
20-Inch Forged Painted Wheels
ROUSH-branded Engine Coil covers
Upgrade to ROUSH TrakPak 3-way adjustable Coilover Suspension with Adjustable Height
Billet Performance Pedals - For manual transmissions (4 pedals)
ROUSH Leather Seating
ROUSH Leather Seating for RECARO seats
6-Speed Shifter Ball - Manual Trans only
ROUSH Trunk-Mounted Tool Kit
Convertible Style Bar
ROUSH Hood Strut Lift Assist
Quarter Window Scoops - Painted black - fastbacks only
Locking Lug Nuts